Back to top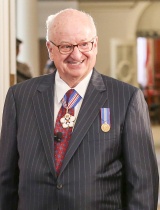 The Lieutenant Governor of Nova Scotia is the viceregal representative in Nova Scotia of Canada's Head of State, King Charles III, The King of Canada.
The Lieutenant Governor is appointed in the name of The King on the advice of the Prime Minister for a fixed term of five years. Each Canadian province has a Lieutenant Governor who is tasked with carrying out most of the Sovereign's constitutional and ceremonial duties. The role of viceregal representative is the longest continuously filled state office in Canada. The Lieutenant Governor also serves as Chancellor of the Order of Nova Scotia, the Province's highest honour.
The current and 33rd Lieutenant Governor of Nova Scotia is The Honourable Arthur J. LeBlanc, ONS, KC who has served in this role since June 28, 2017.
For more information, visit the Official website of the Lieutenant Governor of Nova Scotia:
Address
Government House
1451 Barrington Street
Halifax NS B3J 1Z2