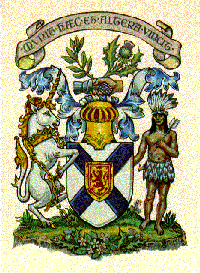 Common Fields Act
CHAPTER 78
OF THE
REVISED STATUTES, 1989
---
NOTE - This electronic version of this statute is provided by the Office of the Legislative Counsel for your convenience and personal use only and may not be copied for the purpose of resale in this or any other form. Formatting of this electronic version may differ from the official, printed version. Where accuracy is critical, please consult official sources.
---
An Act Respecting Common Fields
Short title
1 This Act may be cited as the Common Fields Act. R.S., c. 78, s. 1.
BOUNDARIES AND FENCES
Maintenance of boundaries
2 (1) Every proprietor of lands lying unfenced or in a common field shall once in two years, on six days notice given to him or his agent by an adjoining proprietor, run the lines and make up and keep up the boundaries of such lands by stones or other sufficient marks.
Penalty
(2) Any person neglecting to do so shall be liable to a penalty of four dollars. R.S., c. 78, s. 2.
Maintenance of fence
3 (1) Every proprietor of any field adjoining a common field which is enclosed and improved shall, when his part of the fence dividing his land from such common field becomes defective, immediately make the same a legal fence.
Where failure to maintain
(2) If he neglects to do so after three days notice given him by the field keeper or any proprietor, any fence viewer on application may forthwith cause the same to be repaired, and the person who should have repaired the same shall pay double the expense of such repairs to the fence viewer. R.S., c. 78, s. 3.
Cost of fencing part of common field
4 If any proprietor in a common field desires to have his part thereof separately fenced, he shall, unless otherwise agreed to by two thirds in interest of the proprietors, bear the whole expense of fencing the same and shall keep the fence in repair at his own expense. R.S., c. 78, s. 4.
ANNUAL MEETING
Date and place
5 The proprietors of common fields shall meet annually at some convenient place on the first Monday of September, or on some other day to be appointed at a general meeting. R.S., c. 78, s. 5.
REGULATIONS
Subject-matter
6 A majority in interest of the proprietors present at the annual meeting may make such regulations as from time to time appear expedient respecting the managing, fencing and improving of such common fields and keeping the fences thereof in repair, and the making and repairing of roads and bridges in and across the same as from time to time appears expedient. R.S., c. 78, s. 6.
Record
7 (1) The regulations shall be entered in a book to be kept for that purpose and shall be signed by the chairman of the meeting.
Evidence
(2) The production of the book and proof of the entry made therein shall be sufficient evidence of the regulations. R.S., c. 78, s. 7.
Penalty
8 Any person who violates any of the regulations shall be liable to a penalty not exceeding two dollars. R.S., c. 78, s. 8.
Failure respecting fence
9 If any proprietor, after three days notice from another proprietor, fails to comply with any regulation of the proprietors under which he is bound to make or repair any fence, the fence viewer shall on application make or repair such fence if he thinks it insufficient and the person so failing shall, in addition to any penalty imposed by this Act, pay to the fence viewer double the expense of making or repairing the fence. R.S., c. 78, s. 9.
COMMITTEE OF PROPRIETORS
Appointment
10 At the annual meeting the proprietors shall appoint from among themselves a committee, of not less than three nor more than five, to carry into effect the regulations made respecting the common field for the ensuing year. R.S., c. 78, s. 10.
Assessment
11 (1) When the committee finds it necessary to raise money to carry into effect any regulations not applying to the making or repairing of roads or bridges in or across the common field, they shall assess the amount on the several proprietors or occupiers of the common field by an even and equal rate according to the quantity and quality of the land held.
Roads and bridges
(2) In cases of regulations applicable to the making and repairing of roads and bridges in or across such common field, the committee shall assess the amount required on the proprietors or occupiers by an even and equal rate according to the benefit to be derived from such roads and bridges by each proprietor or occupier respectively. R.S., c. 78, s. 11.
Grand Prairie and Wickwire dykes exception
12 (1) Section 11 shall not apply to any common field on the Grand Prairie or Wickwire dykes in Horton but the committee for any common field on such dykes, after calling a meeting of the proprietors, of which three days notice shall be given to all proprietors residing within six miles of their clerks office, may, with the sanction of such meeting, make and repair all fences, gates, roads and bridges in, across or around the same and may do all acts necessary for the security and improvement of such common field.
Assessment by commissioners of sewers
(2) The committee shall notify the commissioners of sewers of the said dykes of the expense incurred in and about such work, and the commissioners shall include the amount in any sum of money to be by them assessed upon the proprietors of such dykes as ordinary dyke rates and shall apply such amount in payment of the expenses incurred as certified by such committee. R.S., c. 78, s. 12.
Collector
13 The committee may, by writing, appoint a person to collect from the proprietors or occupiers the several sums assessed upon them respectively and the collector, upon neglect of any person assessed to pay the amount for which he has been rated after due notice thereof, may collect the same as if it were a private debt due him. R.S., c. 78, s. 13.
Assessment for attendance
14 The committee may include in any sum to be assessed one dollar for the attendance of each of their number for every day actually employed in carrying the regulations into effect. R.S., c. 78, s. 14.
BRANDS OR MARKS
Recording of brands
15 Every brand or mark adopted by the proprietors of any common field by their regulations, for branding or marking animals to be turned on such field, shall before being used be entered in the book of regulations. R.S., c. 78, s. 15.
Effect of recording brand
16 After entry of such brand or mark, no brand or mark similar thereto shall be adopted or entered in such book of regulations. R.S., c. 78, s. 16.
Penalty
17 If any proprietor of a common field, or any person by his direction, places a brand or mark not entered in the book of regulations upon any animal for the purpose of turning such animal into a common field or counterfeits any such brand or mark for the purpose of branding or marking any animal, he shall be liable to a penalty not exceeding twenty dollars. R.S., c. 78, s. 17.
---
This page and its contents published by the Office of the Legislative Counsel, Nova Scotia House of Assembly, and © 1998 Crown in right of Nova Scotia. Updated June 2, 1998. Send comments to legc.office@gov.ns.ca.