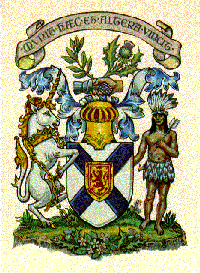 Bills of Lading Act
CHAPTER 38
OF THE
REVISED STATUTES, 1989
---
NOTE - This electronic version of this statute is provided by the Office of the Legislative Counsel for your convenience and personal use only and may not be copied for the purpose of resale in this or any other form. Formatting of this electronic version may differ from the official, printed version. Where accuracy is critical, please consult official sources.
---
An Act Relating to Bills of Lading
Short title
1 This Act may be cited as the Bills of Lading Act. R.S., c. 38, s. 1.
Right of consignee or endorsee
2 Every consignee of goods named in a bill of lading and every endorsee of a bill of lading to whom the property in the goods therein mentioned passes upon or by reason of such consignment or endorsement shall have transferred to and vested in him all rights of action and be subject to the same liabilities in respect to such goods as if the contract contained in the bill of lading had been made to himself. R.S., c. 38, s. 2.
Right or liability unprejudiced
3 Nothing in this Act contained shall prejudice or affect any right of stoppage in transitu, or any right to claim freight against the original shipper or owner, or any liability of the consignee or endorsee by reason of his being such consignee or endorsee, or of his receipt of the goods by reason or in consequence of such consignment or endorsement. R.S., c. 38, s. 3.
Evidence of shipment of goods
4 Every bill of lading in the hands of a consignee or endorsee for valuable consideration, representing goods to have been shipped on board a vessel or train, shall be conclusive evidence of such shipment as against the master or other person signing the same, notwithstanding that the goods or some part thereof have not been so shipped, unless such holder of the bill of lading has actual notice at the time of receiving the same that the goods had not in fact been laden on board, or unless the bill of lading has a stipulation to the contrary, but the master or other person so signing may exonerate himself in respect to such misrepresentation by showing that it was caused without any default on his part, and wholly by the fraud of the shipper, or of the holder, or of some person under whom the holder claims. R.S., c. 38, s. 4.
---
This page and its contents published by the Office of the Legislative Counsel, Nova Scotia House of Assembly, and © 1998 Crown in right of Nova Scotia. Created June 19, 1998. Send comments to legc.office@gov.ns.ca.