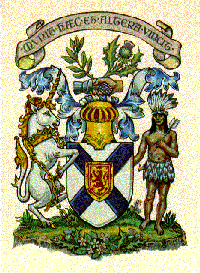 Alternative Penalty Act
CHAPTER 2
OF THE
ACTS OF 1989
---
NOTE - This electronic version of this statute is provided by the Office of the Legislative Counsel for your convenience and personal use only and may not be copied for the purpose of resale in this or any other form. Formatting of this electronic version may differ from the official, printed version. Where accuracy is critical, please consult official sources.
---
An Act Respecting
an Alternative Penalty to Fines
Short title
1 This Act may be cited as the Alternative Penalty Act. 1989, c. 2, s. 1.
Interpretation
2 In this Act, "offence" means an offence punishable as provided by or in accordance with the Summary Proceedings Act. 1989, c. 2, s. 2.
Fine-option program
3 (1) The Governor in Council may establish or approve a program whereby a fine imposed in respect of an offence may be discharged, in whole or in part, by earning credits for performing community-service work and providing for the discharge of such fine.
Contents of program
(2) A program referred to in subsection (1) may determine
(a) who is eligible to participate;
(b) what qualifies as community-service work for the purposes of the program;
(c) the rate at which credits are earned;
(d) the manner of crediting amounts earned;
(e) matters deemed by the Governor in Council necessary for or incidental to carrying out the program.
Approval of extra-provincial programs
(3) The Governor in Council may approve a program in another jurisdiction that is similar to a program established pursuant to subsection (2) where there is an appropriate agreement between the Province and that other jurisdiction. 1989, c. 2, s. 3.
Proclamation
4 This Act comes into force on and not before such day as the Governor in Council orders and declares by proclamation. 1989, c. 2, s. 4.
Proclaimed - January 23, 1990
In force - February 1, 1990
---
This page and its contents published by the Office of the Legislative Counsel, Nova Scotia House of Assembly, and © 1998 Crown in right of Nova Scotia. Updated June 2, 1998. Send comments to legc.office@gov.ns.ca.