BILL NO. 181
(as introduced)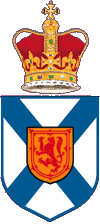 1st Session, 60th General Assembly
Nova Scotia
56 Elizabeth II, 2007





Private Member's Bill




Tar Ponds Monitoring Act
Gordie Gosse
Cape Breton Nova
First Reading: April 5, 2007
Second Reading:
Third Reading:
An Act to Require the Monitoring of
the Health Effects of the Tar Ponds Site
Be it enacted by the Governor and Assembly as follows:

1 This Act may be cited as the Tar Ponds Monitoring Act.

2

In this Act,

(a) "Department" means the Department of Health;

(b) "Minister" means the Minister of Health;

(c) "surrounding residents" means those persons referred to in the regulations.

3 (1) Subject to Section 5, the Department shall, before January 1, 2008, develop and implement a program to monitor, on an ongoing basis, the health effects from the Tar Ponds Site on surrounding residents.

(2) The Department shall, each year, prepare a report on the results of the monitoring program referred to in subsection (1).

(3) The Minister shall table the report referred to in subsection (2) in the House of Assembly, if the House is sitting, or, if the House is not sitting, the Minister shall file the report with the Chief Clerk of the House.

4 (1) The Governor in Council may make regulations

(a) determining those persons who are "surrounding residents" for the purpose of this Act;

(b) defining any word or expression used but not defined in this Act;

(c) the Governor in Council considers necessary or advisable to carry out effectively the intent and purpose of this Act.

(2) The exercise by the Governor in Council of the authority contained in subsection (1) is regulations within the meaning of the Regulations Act.

5 The sums required for the purpose of this Act shall be paid out of moneys appropriated for that purpose by the Legislature.
---
This page and its contents published by the Office of the Legislative Counsel, Nova Scotia House of Assembly, and © 2007 Crown in right of Nova Scotia. Created April 5, 2007. Send comments to legc.office@gov.ns.ca.