BILL NO. 74
(as introduced)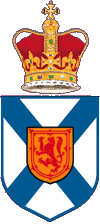 1st Session, 60th General Assembly
Nova Scotia
55 Elizabeth II, 2006





Private Member's Bill




Poverty Reduction Strategy Act
Stephen McNeil
Annapolis
First Reading: November 2, 2006
Second Reading:
Third Reading:
An Act to Establish a Committee
to Develop a Poverty Reduction
Strategy in Nova Scotia

Be it enacted by the Governor and Assembly as follows:
1 This Act may be cited as the Poverty Reduction Strategy Act.
2 The purpose of this Act is to appoint a committee to develop a strategy for the reduction of poverty in the Province.
(a) "Committee" means the Committee established by this Act;
(b) "Minister" means the Minister of Community Services.
4 The Minister shall appoint a committee composed of such persons as the Minister may determine, including at least one representative from each of the following:
(a) the Department of Community Services;
(b) the Department of Education;
(c) the Department of Finance;
(e) the Department of Justice;
(f) the Office of the Advisory Council on the Status of Women;
(g) the Nova Scotia Seniors' Secretariat;
(i) Affordable Energy Coalition;
(j) Black Community Advocates Association of Nova Scotia;
(k) Community Action on Homelessness;
(l) Community Advocates Network;
(o) Halifax Coalition Against Poverty;
(p) Metro Immigrant Settlement Association;
(q) Nova Scotia Association of Social Workers;
(r) Nova Scotia Government and General Employees Union;
(s) Nova Scotia League for Equal Opportunities;
5 Subject to Section 8, the Committee shall
(a) compare and contrast programs and supports offered in the Province with best practices offered in other jurisdictions with the purpose of developing a strategy for the reduction of poverty in the Province;
(b) conduct public consultations to obtain public input into developing the strategy; and
(c) make recommendations to the Government on the implementation or expansion of programs to address the issue of poverty reduction in the Province.
6 (1) On or before May 1, 2007, the Committee shall report to the Minister with a Poverty Reduction Strategy, including an implementation timetable.
(2) On or before May 31, 2007, the Minister shall table the report of the Committee in the House of Assembly if the House is then sitting or, if the House is not then sitting, file the report with the Clerk of the House.
7 (1) The Governor in Council may make regulations respecting any matter the Governor in Council considers necessary or advisable to carry out effectively the intent and purpose of this Act.
(2) The exercise by the Governor in Council of the authority set out in subsection (1) is regulations within the meaning of the Regulations Act.
8 The monies required for the purpose of this Act shall be paid out of moneys appropriated for that purpose by the Legislature.
---
This page and its contents published by the Office of the Legislative Counsel, Nova Scotia House of Assembly, and © 2006 Crown in right of Nova Scotia. Created November 2, 2006. Send comments to legc.office@gov.ns.ca.