BILL NO. 22
(as introduced)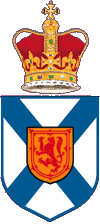 1st Session, 60th General Assembly
Nova Scotia
55 Elizabeth II, 2006





Government Bill




Motor Vehicle Act
(amended)
The Honourable Angus MacIsaac
Minister of Transportation and Public Works
First Reading: June 30, 2006
Second Reading: November 2, 2006
Third Reading: November 23, 2006 (LINK TO BILL AS PASSED)
Explanatory Notes
Clause 1 amends the definition of "farm tractor" and adds definitions of "farm wagon" and "implement of husbandry" in the Motor Vehicle Act.
Clause 2 provides that no person shall drive upon a highway at a speed greater than forty kilometres per hour a vehicle displaying a slow-moving sign.
Clause 3 provides that towed implements of husbandry are not required to have brakes, provided a slow-moving sign is displayed and the implement of husbandry can be stopped within ten metres when travelling at a speed of twenty kilometres per hour.
Clause 4 provides that this Act comes into force on proclamation.
An Act to Amend Chapter 293
of the Revised Statutes, 1989,
the Motor Vehicle Act

Be it enacted by the Governor and Assembly as follows: 1 Section 2 of Chapter 293 of the Revised Statutes, 1989, the Motor Vehicle Act, as amended by Chapter 24 of the Acts of 1994, Chapter 12 of the Acts of 1994-95, Chapter 23 of the Acts of 1995-96, Chapter 12 of the Acts of 2001, Chapter 20 of the Acts of 2002 and Chapter 42 of the Acts of 2004, is further amended by

(a) striking out clause (p) and substituting the following clauses:
(p) "farm tractor" means a motor vehicle designed and used primarily as a farm implement for drawing plows, mowing machines and other implements of husbandry and not so constructed as to carry a load other than a part of the weight of a vehicle and load drawn by it, and includes such a motor vehicle equipped front or rear with attachments designed and used for agricultural purposes, loaded or without a load;

(pa) "farm wagon" means a trailer equipped with two axle groups of which the front axle group is steerable and designed and used to carry farm products or farm supplies;
(b) adding immediately after clause (u) the following clause: